Take control of your content with our

full-scale

DAM system
Our Enterprise solution makes it easy to manage, distribute and access your assets, increasing productivity, brand consistency and compliance across your organization.
Simplified document distribution to the relevant channels
Sending documents and files should be easy, and while there are endless options–cloud storage, file transfer services, messaging apps and email, to name a few–it can be hard to keep track when using several methods to share content with colleagues and collaborators. Pickit can help put an end to that with more intuitive internal and external sharing capabilities, contributor roles for authors and more.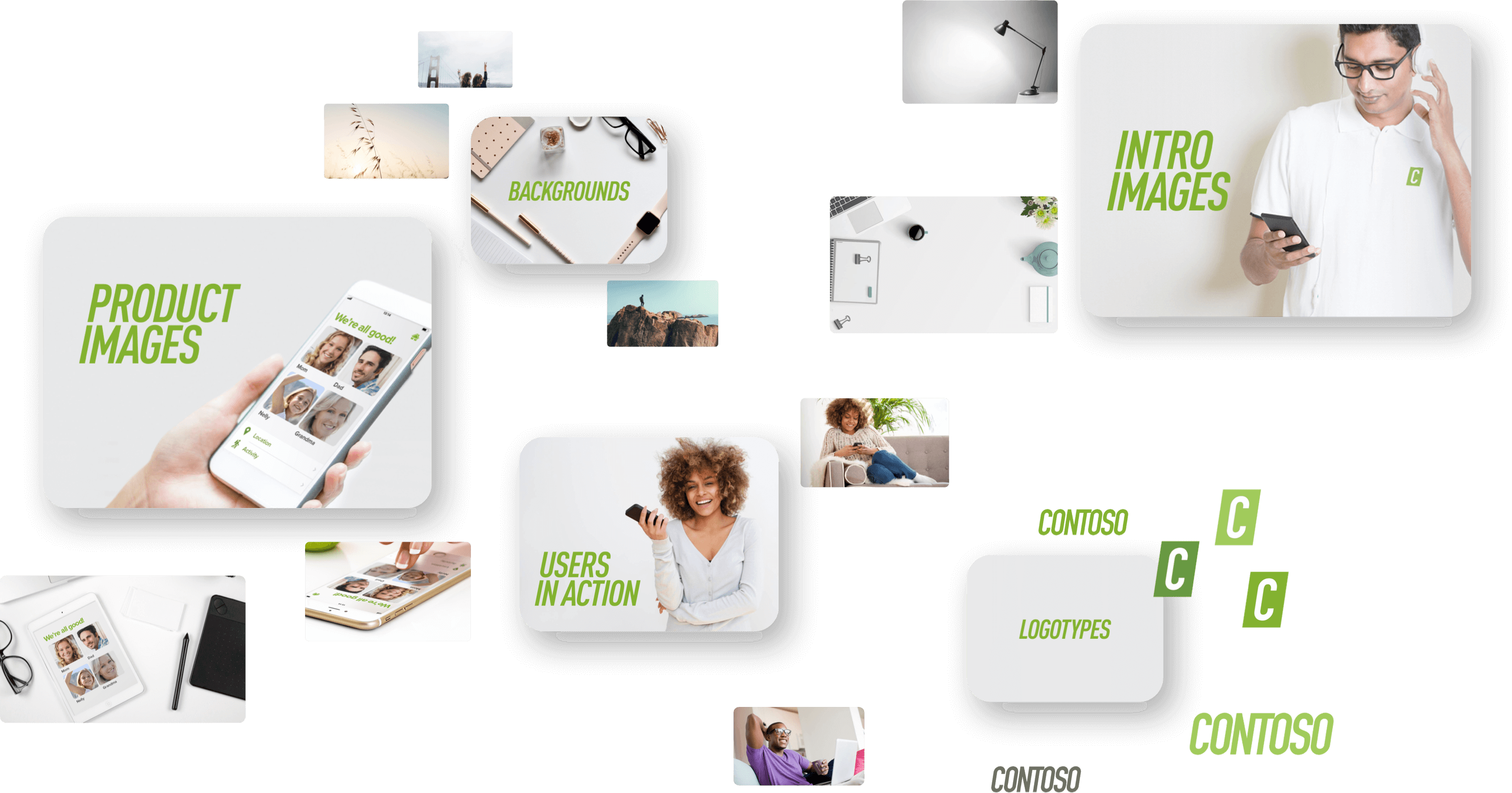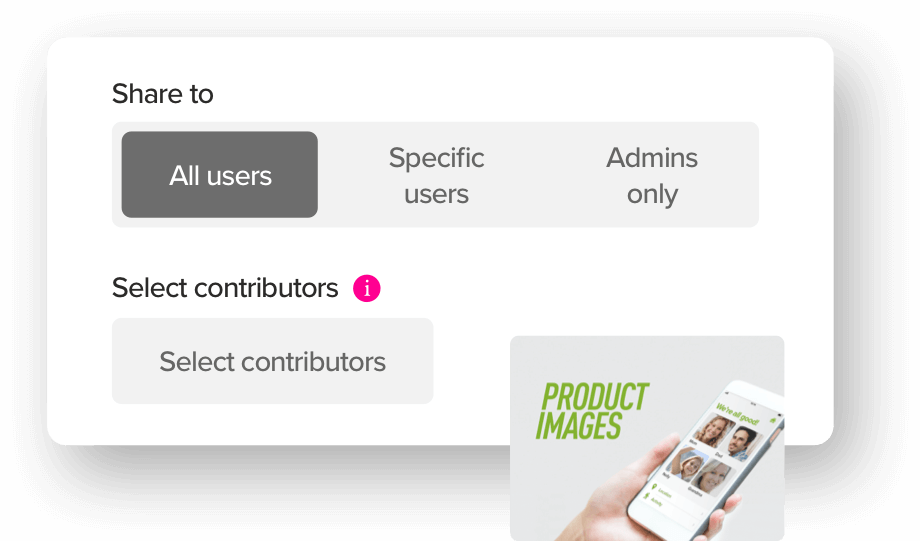 Internal asset distribution
As you add new templates, documents and assets to your library, you can use the Content Administration Tool to select what channels you want them in as well as which of your organization's departments, teams and individual users to share them with.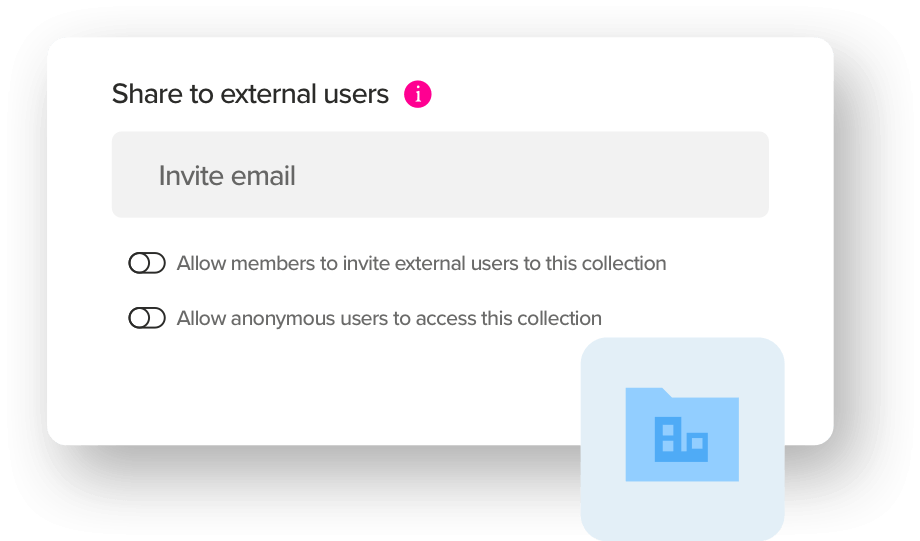 External asset sharing
In the same way as you can distribute assets to users in your organization, you can also use Pickit to share selected image collections and assets with external collaborators. Perfect for when you're working with agencies, freelancers and other non-employees.
Intuitive content administration tools made for humans
Most DAM systems are made for administrators, not for end users. We decided to make one for both, loaded with features and functionality to make managing your content effortless.
Analytics and insights

License management

Batch uploading

AI auto-tagging
File conversion

Version control

Single sign-on

User roles
Keeping your assets safe,
secure & compliant
The security of your digital assets is high priority for us at Pickit, so our engineers always employ best practices when it comes to building and further strengthening our industry-leading platform. Through a close relationship with the team at Microsoft Azure and constant enhancements to our infrastructure, you can relax knowing that your content is in safe hands.
✔ Secure storage
✔ Advanced permissions
✔ License management
A total
game-changer
"Pickit has been a total game-changer and allows our team to be efficient, consistent, and best of all, on brand."

Executive Director of Brand Marketing
Boost your brand intelligence
with our Insights dashboard
Pickit's Insights Dashboard provides actionable analytics to help you understand how your assets are performing.
By getting data on downloads, inserts and image usage, you can easily optimize your library and increase your ROI on brand material.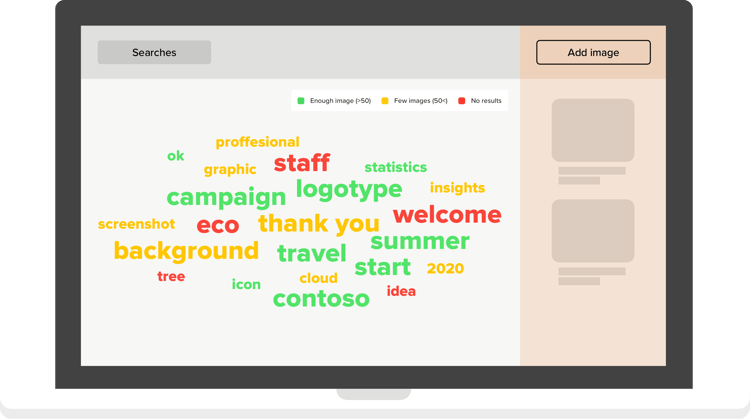 Track usage, trends and popular search terms
Discover high-performing assets and missing content
Optimize your content based on usage and needs
See better brand consistency
across your company
Tired of colleagues creating content that's bad for your brand? Pickit enables you to distribute company-approved
logos,photos, assets and visual guidelines so it's easy for people to stay on brand.
Increased control, consistency
and compliance
Brand guidelines
Tired of colleagues creating content that's bad for your brand? Pickit enables you to distribute company-approved logos, photos, assets and visual guidelines so it's easy for people to stay on brand.
Custom branding
Don't like all the Pickit pink? No problem; make the platform feel like yours by adding your own custom fonts, colors and styling.
Consistent brands perform 23% better
Businesses with clear and consistent branding perform 23% better than those without. Pickit can help you see the same results.
Time-saving tools to help manage your corporate templates
Use Pickit to distribute your corporate templates so employees always have easy access to the latest versions inside PowerPoint, Microsoft Word, Google Slides and Docs. You can also Pickit-enable the templates so they work seamlessly with the digital assets in your Pickit library.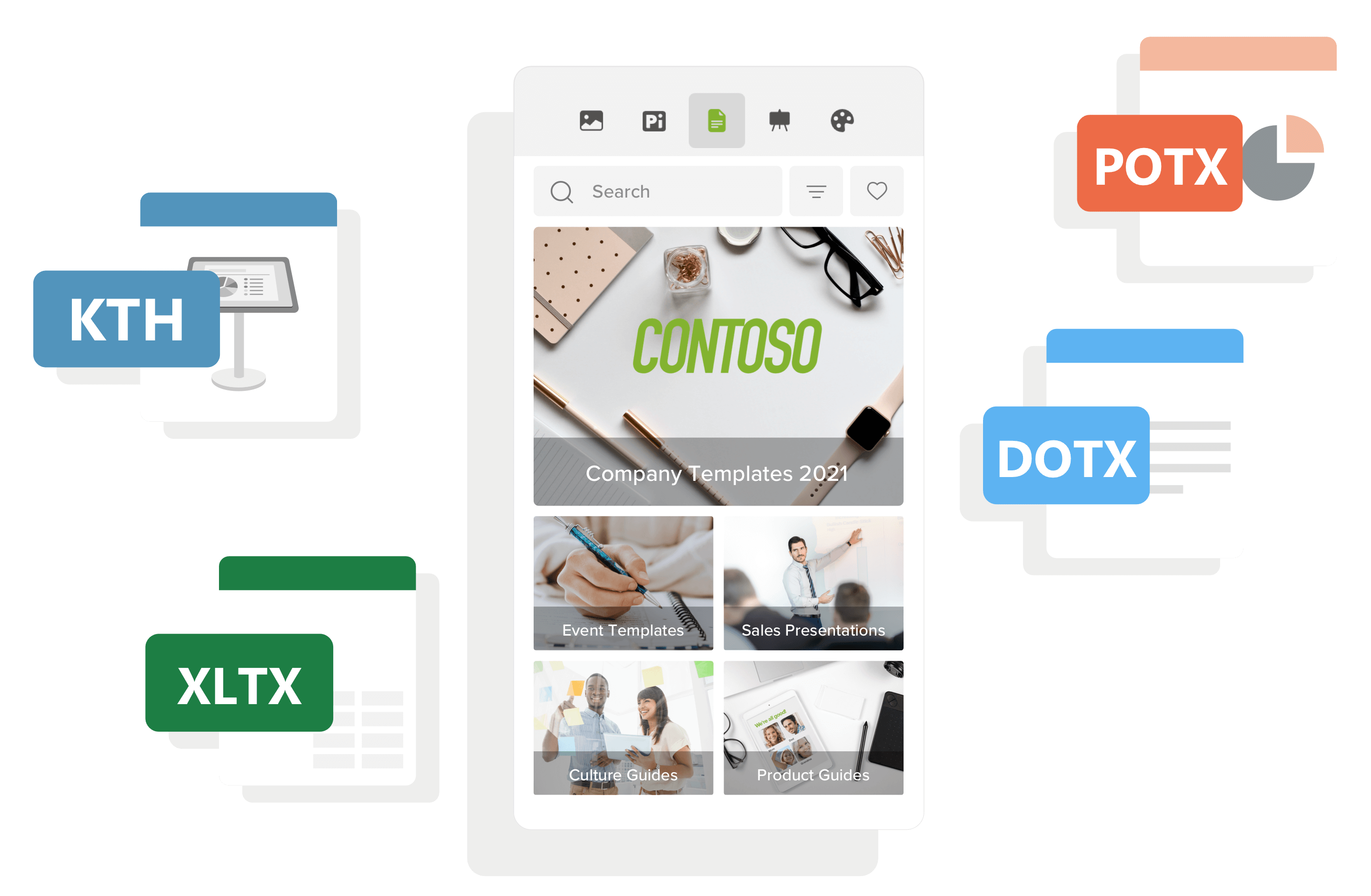 Pickit specialists

at your service
Our team will provide all the help you need setting up the service and onboarding your employees. And for users looking for further assistance migrating content, curating an asset library or implementing other features and functionality, we provide a range of professional services so you're never alone and can always make the most of the service.
Onboarding

Implementation

Migration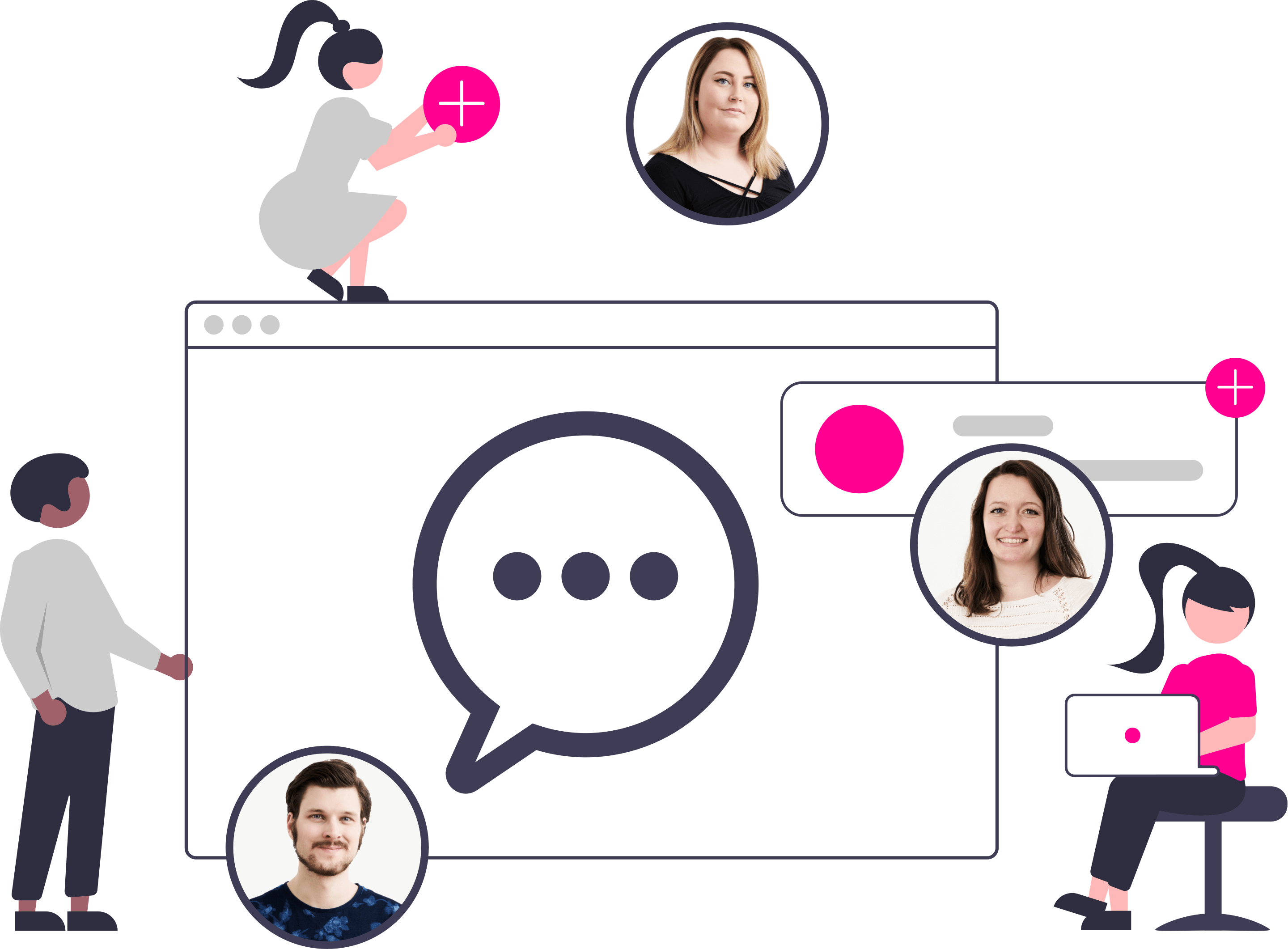 Integrations for a smoother
workflow across applications
Pickit connects seamlessly with the world's most-used cloud storage solutions, stock image providers, programs
and ecosystems. Add Pickit to your tech stack and integrate effortlessly with the tools you're already using.
Share photos, logos, image collections, documents and more inside Teams to review, approve, comment and collaborate in one place.
Administrators can enjoy a seamless migration and file management experience, while also providing easier access for end users.
Connect Pickit to your OneDrive to manage and share material to your preferred applications from one easy-to-use control panel.
Empower your employees to make impactful presentations in minutes;
share your assets inside the world's most-installed Office app.
Help coworkers create stunning documents that stand out and make their work come to life with our award-winning add-in for Word.
Boost productivity by providing access to your assets inside
some of the world's most-used apps in the Google Workspace suite.
Make your visuals and brand assets available from inside Google Slides for faster presentation-making across your organization.
Help your colleagues spice up their documents by putting appropriate, approved digital assets at their fingertips in Google Docs.
Avoid context-switching by connecting Drive to your Pickit asset library for a better visual overview and access under one roof.
Connect your Dropbox Business account so employees can quickly search and surface all the latest approved files under one roof.
Plug your Box account into Pickit to effortlessly access files so they can be tracked, managed and shared in your chosen channels.
Level up with Pickit Academy
With Pickit Academy, you can give your colleagues access to training, tips and tricks on presentation design, public speaking, document creation and other best practices. Either use Pickit's off-the-shelf content or populate the Academy tab with your own videos, webinars and guides.
Built-in stock image banks,
fully customizable
For organizations looking to expand their asset library with licensed photos, vector graphics, audio and video from stock image providers, Pickit has optional integrations that can be switched on or off to suit their needs. Providers include Shutterstock, Getty Images, Adobe Stock and Pickit Stock.
Schedule a demo or start a trial
Talk to a product specialist to see the solution in action and set up your own DAM system in 15 minutes.