Welcome to the world's
simplest DAM system
Introducing our full-scale digital asset management system
Explore our enterprise features, functionality and industry-leading
integrations, or schedule a time for a personal product demo below.
A simpler solution for
sharing and authoring
Sending documents and files should be easy, and while there are endless options–cloud storage, file transfer services, messaging apps and email, to name a few–it can be hard to keep track when using several methods to share content with colleagues and collaborators. Pickit can help put an end to that with more intuitive internal and external sharing capabilities, contributor roles for authors and more.
Internal sharing
As you add new templates, documents and assets to your library, you can use the Content Administration Tool to select what channels you want them in as well as which of your organization's departments, teams and individual users to share them with.
External sharing
In the same way as you can distribute assets to users in your organization, you can also use Pickit to share selected image collections and assets with external collaborators. Perfect for when you're working with agencies, freelancers and other non-employees.
Contributors
Admins and Owners of your Pickit Enterprise account can choose to assign individual users or whole teams and departments an authoring role by making them Contributors. This gives them permission to upload, edit and manage the assets in a collection.
Easy access
Publish important rules and recommendations in the applications where people need them.
Template manual
Coworkers abusing the corporate template? Put your manual alongside the templates for better traction.
A hub for your brand
A single source of truth with only approved assets, making it easy to stay on brand.
Optimize and customize your
templates with Pickit
To see a demo of our template feature, schedule a
walkthrough with a product specialist today.
Track trends
Follow asset usage and popular search terms so you're always supplying the right content.
Predict needs
Identify gaps in your library so you can source new material that will meet your users' needs.
Reduce cost
Boost asset usage and increase your ROI, as well as saving on sourcing fresh content for your library.
Share photos, logos, image collections, documents and more inside Teams to review, approve, comment and collaborate in one place.
Administrators can enjoy a seamless migration and file management experience, while also providing easier access for end users.
Boost productivity by providing access to your assets inside
some of the world's most-used apps in the Google Workspace suite.
Make your visuals and brand assets available from inside Google Slides for faster presentation-making across your organization.
Help your colleagues spice up their documents by putting appropriate, approved digital assets at their fingertips in Google Docs.
Avoid context-switching by connecting Drive to your Pickit asset library for a better visual overview and access under one roof.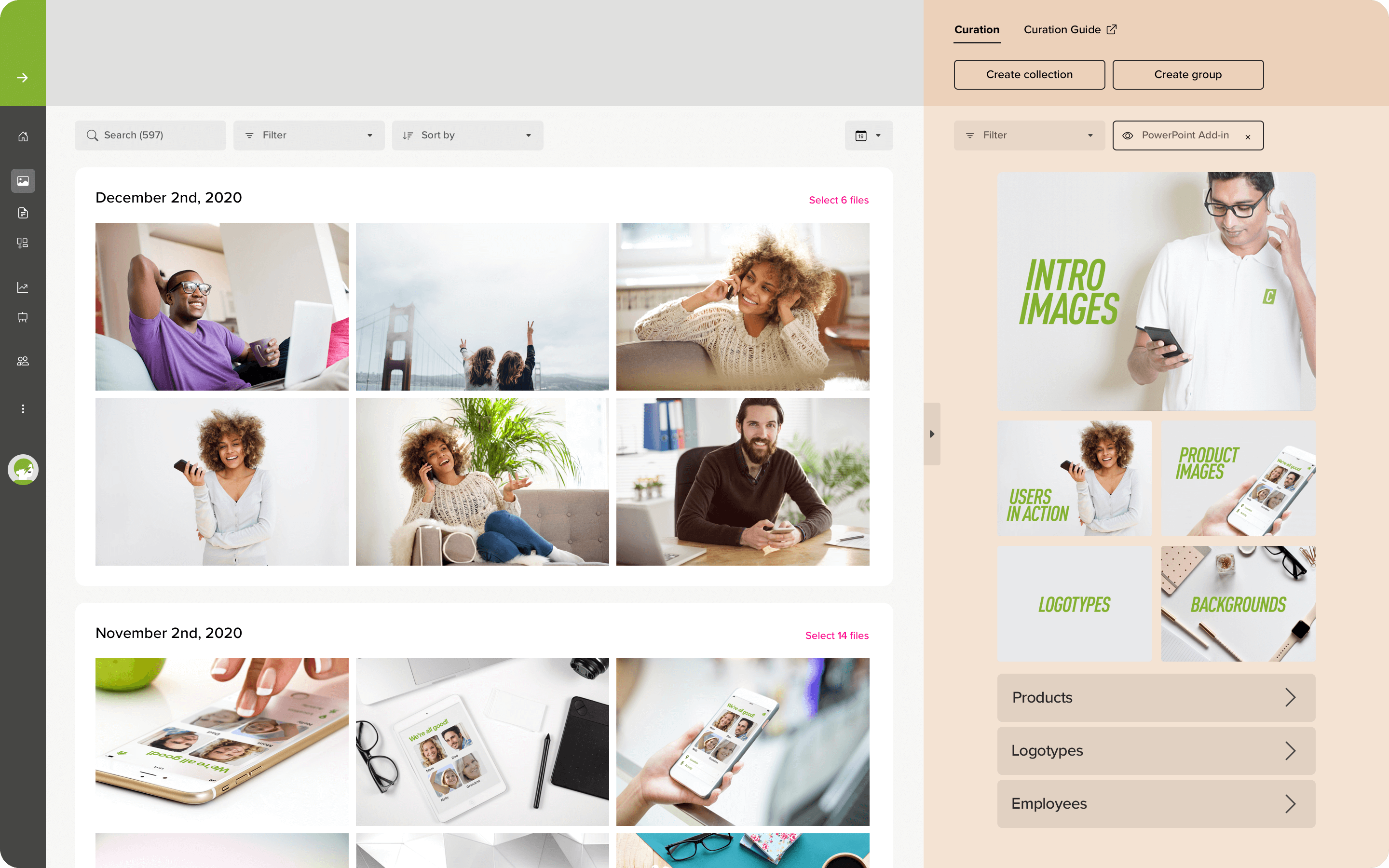 Built-in stock image banks,
fully customizable
For organizations looking to expand their asset library with licensed photos, vector graphics, audio and video from stock image providers, Pickit has optional integrations that can be switched on or off to suit their needs. Providers include Shutterstock, Getty Images, Adobe Stock and Pickit Stock.
Choose from one or more stock image providers
Enterprise users can also choose to switch on the Pickit Stock library, making it available to all users or selected teams and individuals.
This means access to curated image collections and over 1 million photos, icons, illustrations, audio and video files all at no additional cost.
Keeping your assets safe, secure & compliant
The security of your digital assets is high priority for us at Pickit, so our engineers always employ best practices when it comes to building and further strengthening our industry-leading platform. Through a close relationship with the team at Microsoft Azure and constant enhancements to our infrastructure, you can relax knowing that your content is in safe hands.
✔ Secure storage
✔ Advanced permissions
✔ License management
Secure storage
Enjoy peace of mind knowing assets are encrypted and protected in Microsoft Azure data centers.
Advanced permissions
Use roles and permissions to control access rights for different users and assets.
License management
Add and import licenses for all your assets to keep track of usage rights and stay compliant.
Schedule a live demo
Talk to a product specialist to see the solution in action and set up
your own asset library for your department or company.