The Pickit add-in can be easily distributed to your entire organization by using Microsoft 365's Centralized Deployment feature.
Please note that you must have Global Admin rights in the Microsoft 365 Admin Center in order to perform these steps.
First off, verify that your organization meets the
prerequisites for centralized deployment.
Once you've cleared that:
Go to the Microsoft 365 admin center page and go to Settings > Integrated apps. Then click on "Upload custom apps".



Select how you want to fetch the add-in, you can upload a manifest file from your computer or provide a link to the manifest. The manifest is provided by Pickit for Enterprise customers.

If you have added a link, click on Validate before you continue. Then click on Next.
3. Select which users you want to assign the add-in to. You can choose to make it available for the whole organization, or if you want to give it to specific groups or users within your AAD.

Note that this doesn't control who has the right to login to Pickit. It will only deploy the add-in in PowerPoint and Word.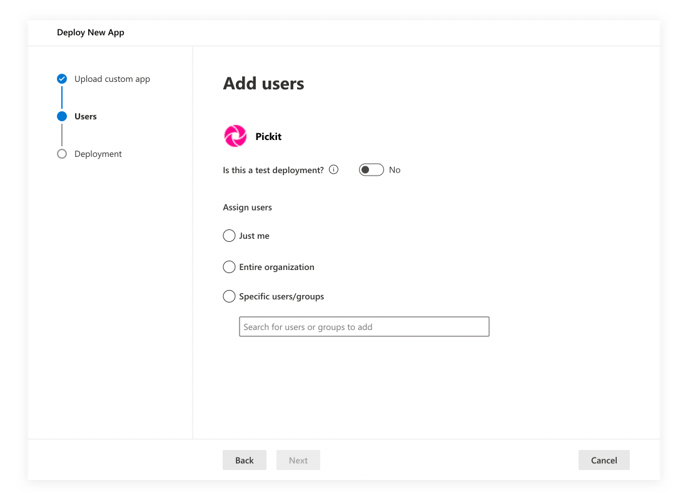 4. As a last step, accept the permissions by clicking on Next and review your deployment before clicking on Finish Deployment.

It can take a while for the add-in to be deployed and visible for all your selected users. Normally it shows up within 24 hours after deployment.